Help: How to play the game
The app's main view displays graphical reversi-board & pieces, and some controls ("Menu" button to open sidebar, information about current game and "Restart" button).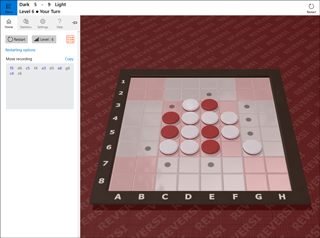 Move selection during game
In your play-turn, choose a move by touch, mouse or keyboard as follows.
By touch/mouse : Tap/click on the target square to put your piece on it.
By keyboard : Move cursor to the target square by arrow keys and hit space to put your piece on it.
You can put a piece only in legal position (indicated by small disc guide marks). When there is no legal move available, you automatically "Pass" and play turn switches back to the opponent.
---
Sidebar tab: Home
Game controls
Restart : Start a new game*
Level : Change level and start a new game*
Restarting options : Configure play color (Dark, Light or Alternate), and confirmation message
*If there is an ongoing game, you give it up and start a new game.
Move recording
All the moves players make are automatically recorded in common format.
Copy : Obtain record in text format
Sidebar tab: Statistics
Statistics lists summaries of total game results (#win, #loss and #draw in each play-level). Select an item to see details of results in that level.
Copy : Obtain results in text format
Reset : Clear counters in the play-level
Sidebar tab: Settings
Show guide marks : Turn on guide marks to indicate squares on which you can put a piece.
Invert the reversi-board : Change the direction of the board (90degrees rotation)
Sound effects : Choose "Percussion", "Snap" or "None"
Sound volume : Change sound master volume
Color theme : Choose a color-set and click "Apply" to change colors
View tilt angle : Adjust tilt of main 3d view between 0deg (top-view) and 45deg (bird's-eye-view)
Sidebar tab: Help
Game Help / Terms & Privacy : Open online documentation on this website in default web-browser.
Purchase ad-free license* : Open purchase-dialog to buy an annual license.